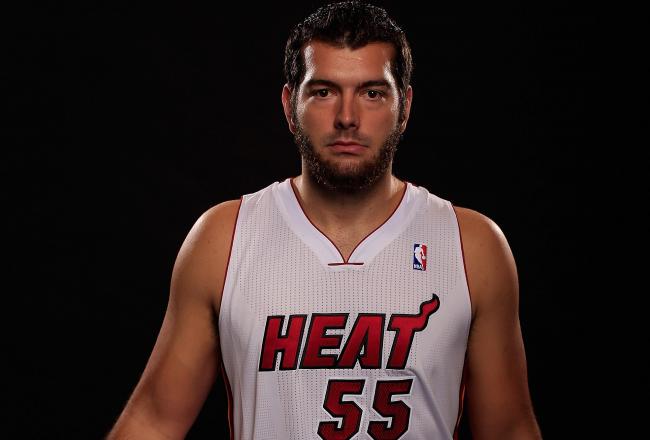 NEW YORK –
– In their effort to add veteran pieces around
Carmelo Anthony
and
Amar'e Stoudemire
, the Knicks made a number of offseason moves. One of them was to send popular rookie
Josh Harrellson
— along with
Toney Douglas
and
Jerome Jordan
— to Houston in exchange for
Marcus Camby
.
Nicknamed "Jorts," Harrellson returned to New York for the first time Friday night as a member of the Miami Heat, which suffered a 104-84 beatdown by Anthony and the Knicks. "It's weird, it's my first home so the Knicks always have a place special to me for giving me my first opportunity in the NBA," said Harrellson, who lived in Rockaway, N.Y., which has been ravaged by Hurricane Sandy, while he was with the Knicks. "Hopefully we can come out here and give the fans what they want. The hurricane hit so a lot of people are excited about this game, excited about the Knicks this season." Harrellson appeared in 37 games for the Knicks during the 2011-12 season, but battled injuries.  The 23-year-old center averaged 14.6 minutes, 4.4 points and 3.9 rebounds. He was traded to the Rockets in July as part of the deal to bring back Camby, a backup center, and said it was a strange experience. "When I found out I got traded, it was right before summer league so then I had to go down with Houston and that was a lot different," he said. "I was used to the organization here, I didn't know anybody in Houston besides for my former teammates [
Patrick Patterson
and
Terrence Jones
], which are still good friends of mine, so I was really excited to play with those guys. "And then I got cut, so it was definitely an awkward moment not knowing where I was going to be, not knowing where I was going to be playing, if I was going to be playing. And I went to Miami, one of three or four teams I was thinking about going to. And they liked what they saw, and I made the cut out of about eight people so it worked out." Harrellson said he sees similarities between the Heat and the Knicks. "They're both great organizations," he said. "From top to bottom, they're both first class and I've been treated great by both of them. We approach the game the same way. Both teams are competitors, both coaches are great, smart coaches and they know to prepare you and I got a lot of great veterans on this team. And same with the Knicks, last year we had a lot of great veterans."
Harrellson is one of 21 former Kentucky players on opening-night NBA rosters.
Duke was second with 18, followed by North Carolina (15) and Kansas (14
). "Twenty-one players, I was actually counting that up the other day with another teammate," Harrellson said. "It says a lot of about what Coach Cal [
John Calipari
] has done and this University itself. Coach Cal has put 15 guys in the NBA in the last three years and that says a lot about him." Harrellson counts Utah Jazz forward
Enes Kanter,
his former Kentucky teammate, among the 21 even though Kanter never played a game with the Wildcats because of NCAA sanctions. Harrellson said he's looking forward to when the Heat play the Jazz Dec. 22 in Miami. "He never played but he's still part of the family," he said. "He was there for an entire year, practiced every day so he's still definitely part of the family." He added: "I haven't had a chance to play against Enes yet. We battled every day for an entire year and I'm pretty sure he's the only former 'Cat that I didn't get a chance to play against last year. Oh, and Patrick Patterson, I haven't had a chance to play against him, and Terrence Jones, so I'm really looking forward to playing against those guys."
Harrellson said he's also been impressed with current Kentucky freshmen center
Nerlens Noel
, who had 17 points and 11 rebounds in a recent exhibition win over Northwood. The 6-11 Noel is
projected as the No. 2 pick in the  2013 NBA Draft by DraftExpress.com
. "From summertime to now, he's definitely improved and he's a different player than he was when I first him," Harrellson said. "But he'll be another tremendous player, I think." Harrellson was part of the Kentucky Final Four team that lost to eventual champ UConn in 2011. He then watched last year's team win Calipari's first NCAA championship before sending six players, including three freshman, to the NBA Draft. Does he think this year's team faces too much pressure following in their footsteps? "Coach Cal is a great coach, he definitely knows how to get his guys motivated," Harrellson said. "He knows how to improve his guys from freshmen. By the time the season's about to be over, they'll be playing like sophomores, juniors. He's just always had that knack for guys to mature them quick and get them ready for the next level. "They have a lot of pressure coming from the team they had last year. It was a great team they had, winning a championship, and there's a lot of pressure on those guys to do the same thing. Coach Cal puts the pressure on them to come out and compete and be just as good as his teams in the past. So if those guys are willing to take the challenge, it will be another great team."
KENTUCKY PLAYERS CURRENTLY IN THE NBA
Eric Bledsoe, LA Clippers Keith Bogans, Brooklyn DeMarcus Cousins, Sacramento Anthony Davis, New Orleans Josh Harrellson, Miami Chuck Hayes, Sacramento Terrence Jones, Houston Enes Kanter, Utah Michael Kidd-Gilchrist, Charlotte Brandon Knight, Detroit Doron Lamb, Milwaukee DeAndre Liggins, Oklahoma City Jodie Meeks, LA Lakers Darius Miller, New Orleans Nazr Mohammed, Chicago Daniel Orton, Oklahoma City Patrick Patterson, Houston Tayshaun Prince, Detroit Rajon Rondo, Boston Marquis Teague, Chicago John Wall, Washington Photos: US Presswire, UK Athletics
Follow Adam Zagoria on Twitter
And like ZAGS on Facebook