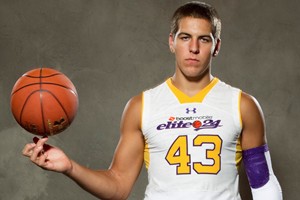 Mitch McGary
made the decision many had expected. "Next fall I'm going to Ann Arbor, Mich., and going to become a Wolverine," he said Thursday on ESPNU.
McGary's decision to attend Michigan over Duke or Florida could have long-lasting implications for
John Beilein's
team going forward. "This is certainly the highest-recruited player he's ever signed at West Virginia or Michigan, every place he's been," New York recruiting expert
Tom Konchalski
said of the 6-foot-10 McGary, the No. 1-rated power forward in the Class of 2012. Could this move by McGary, an Indiana kid who plays at Brewster (N.H.) Academy, draw other top recruits to the Wolverines? "Well I think it certainly can," Konchalski said. "Look, I don't know if they're going to become quite the recruiting magnet they were in the early '90s when they were the 'Fab Five' because that's just not the appeal. Even though Ann Arbor's not urban, they have an urban image with their team. I don't think John Beilein's team will ever have that image, but certainly it's a national university and it's an outstanding school and they have outstanding athletic facilities. "I really think it's going to make them a major player in the Big Ten again." After reaching back-to-back national championship games with the 'Fab Five' in the early '90s, Michigan struggled for the better part of two decades as a result of NCAA sanctions, out-of-date facilities and a lack of big-time recruits. Yet the Wolverines are coming off a berth in the NCAA Tournament and now have a major piece around which to build. "Even when he had
[Kevin] Pittsnogle
, Pittsnogle was more of a step-our four man who shot 3's," Konchalski said. "I don't know if [Beilein's] ever had the post presence offensively that he'll have now. John Beilein is one of the outstanding coaches in the country and he has worked a modern miracle turning what resources he has into winning teams and winning programs. He's done a wonderful job."
Wayne Brumm
, McGary's AAU coach, told the Detroit News that Beilein can work wonders with post players. "The post player is intimately and intricately involved in John Beilein's system," Brumm
told the paper
. "I don't know anybody who runs a better offensive system for a post player than Michigan. So I have to say, why not (Michigan as a possible destination)? Everybody else is (analyzing McGary's recruitment) like they're a friggin fan. We're trying to pick a school that is in Mitch's best interest." "John Beilein can flat out coach," he continued. "The people I talk to and the coaches I talk to, I'll flat out tell you — they are scared of John Beilein. They are worried about the day he starts getting the talent that they've got (at their schools). He's been at a bunch of places that he couldn't recruit high-major talent. Now he's at Michigan and it looks like he is making some headway there. Look what he did with
Darius Morris, Timmy Hardaway
and look what he has done with Jordan Morgan." McGary joins 6-5 small forward
Nick Stauskas
of St. Mark's (Mass.) and 6-5 small forward
Glenn Robinson III
of St. John (IN) Lake Central in Beilein's 2012 class. McGary is tight with Robinson III. "What I really like about Michigan is its coaching staff, especially
Bacari Alexander
," said McGary in his ESPN blog Wednesday. "He's probably one of the most underrated coaches in the country. He really knows what he's doing with the big men. I just like that I can trust the coaches there, and I actually like that they're not on the biggest stage yet. That gives me the opportunity to go there and make a huge impact from day one." McGary has big goals for his first season on campus. "I'd like to bring a national championship to Ann Arbor next year," he said on ESPNU.