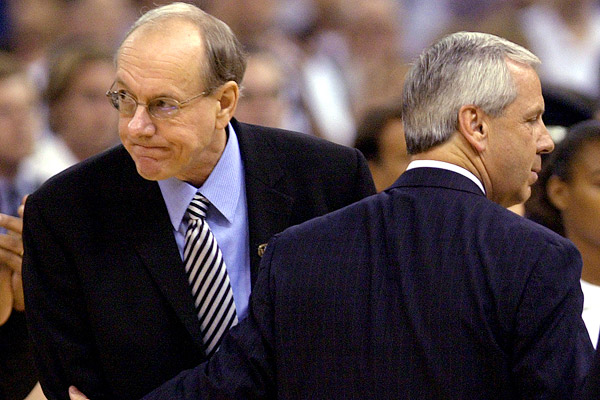 With the addition of Syracuse to the ACC, the league now features six of the past 11 NCAA men's basketball championship winners. If UConn were to join the ACC, that number would rise to eight.
Since 2001, UConn (2004, '11), Duke ('01, '10) and North Carolina ('05 and '09) have each won two titles, while Maryland (2002) and Syracuse (2003) have captured one apiece. The only other titles during that span belong to Florida of the SEC, which won back-to-back titles in 2006-7, and Kansas of the Big 12 (2008). "This is an exciting time, an unbelievably turbulent time, but it's exciting for us, and the people in the conference office felt Syracuse and Pitt make a great fit,'' Carolina coach
Roy Williams
told ESPN.com
. "These are two great schools in our league. In basketball — my goodness — we add a great deal.'' Both Williams and Duke coach
Mike Krzyzewski
said they favor a 16-team super-league with two eight-program divisions. "Sixteen schools seems to be a popular number, and it fits,'' Williams said. "I would not be against adding two more schools. Think about adding Syracuse and Pitt basketballwise, and what a fantastic 16. You might be surprised with a Duke and North Carolina guy agreeing, but I like Mike's idea. I just hope I'm coaching long enough to see this thing through.'' Syracuse coach 
Jim Boeheim
 and Williams (then with Kansas) can now stage another rematch of the 2003 championship game — during the regular season. "I spent 30 years in the Big East, so this will be hard for me,'' Boeheim said Sunday, according to ESPN.com. "This has been hard for me, but the school has to do what's best for the school. This is a hard pill for me because this is what I know.
Dave Gavitt
[the Big East's founder, who died Friday night at 73] made us all. Without him, there would be no Hall of Fame for me, no national championship for Jim Boeheim. There's a lot of history.'' Imagine a regular-season ACC game in which UConn plays at Duke? Or North Carolina visits UConn? ESPN.com reported that UConn is "aggressively pursuing membership in the ACC to become the 15th or 16th member," and school President
Susan Herbst
isn't exactly denying those rumors. She said in a statement that although UConn was "a proud charter member of the Big East" the school was staying "actively involved in discussions with our counterparts from around the country to ensure the successful long-term future of our university's athletic program." The Big East requires a $5 million exit fee and 27 months' notice, meaning UConn and Pittsburgh theoretically couldn't officially join the ACC until the 2014 football season and the 2014-15 basketball campaign. That would mean three more years of lame-duck status. But that seems unlikely. "I think it would be better for everybody [for an early exit], because the Big East may need to bring someone in, since they don't want to play football with only seven members,'' Boeheim said, per ESPN.com. "It would be kind of funny if we had to play two more years.'' So emboldened was ACC Commissioner
John Swofford
by the additions of Pitt and Syracuse, that he's talking about potentially holding the ACC tournament at Madison Square Garden. "I would be open to that,'' Swofford said Sunday on a conference call. "We've had some good experience in rotating our tournament. We've had excellent experiences in Atlanta, Tampa and Washington, D.C., and with this 14-member conference, I don't think there is any question that we'll take a look at New York and Madison Square Garden. "It would be very appealing for Atlantic Coast Conference basketball fans and even more with teams in close proximity and with that being the media center of the world. I would be remiss if we didn't think of it in those terms.'' ESPN.com reported that the Big East's contract with MSG runs through 2016, but that the Garden would be open to hosting the ACC tournament. Duke regularly appears in games at the Garden, and Carolina played Rutgers there last December. Meantime, Rutgers athletic director
Tim Pernetti
and his school now appear to have three options. They can also pursue membership in the ACC. They can try to make a move to join the Big Ten. Or they can remain in the Big East and hope Commissioner
John Marinatto
can stabilize things by adding some combination of Kansas, Kansas State, Missouri and Baylor. "So long as you're in one place, you want to try to do what you can do to make it the best it can be," Pernetti said Sunday on a conference call, according to the RU Daily Targum. "At the same time, given the landscape and how it's changing, you have to protect the best interests of your institution. Unanimity is the greatest asset any league can have right now, and that's the one thing that continues to challenge the BigEast." Pernetti, a former executive vice president for content at CBS Sports, said he's not worried about Rutgers being shout out of a league. "If you're asking me if I'm concerned about being shut out, I'm not," he said. "I think we have great assets and will continue to be a player in this thing until it comes to some sort of conclusion." In the meantime, the Big East's remaining basketball-only Catholic schools — St. John's, Seton Hall, DePaul, Villanova, Providence, Marquette and Notre Dame (whose football team is independent) — could opt to de-couple and form their own basketball league with the hopes of landing a solid TV deal. "St. John's is a proud founding member of the Big East Conference and we are confident in the future of the league," Johnnies coach
Steve Lavin
said in a statement. "It appears some form of Big East realignment is inevitable, but the St. John's family can rest assured in knowing that our program will continue to thrive as a college basketball program of distinction. "We are uniquely positioned to build upon our rich heritage and winning tradition. Competing in the largest media market in the country, playing our home games at Madison Square Garden, having a rabid, loyal fan base and being located in a region of the country that has the best high school basketball prospects are just a few of the reasons St. John's will continue its winning ways." (Photo courtesy ESPN.com)
RELATED CONTENT
**
ACC approves Pitt, Syracuse; UConn, Rutgers next
? **
Big East to lose Pittsburgh, Syracuse to ACC
**
Report: Pitt, Syracuse talking to ACC