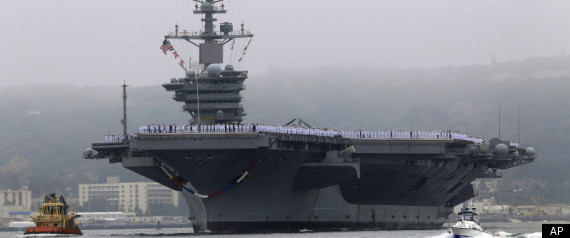 Dexter Strickland
has played in Madison Square Garden, the Dean Smith Center and Cameron Indoor Stadium. But he's never played on the deck of an aircraft carrier.
That will change on Veteran's Day when Strickland and his North Carolina teammates play Michigan State on the USS Carl Vinson, the aircraft carrier that carried
Osama bin Laden's
body to a burial at sea. It will mark the first NCAA basketball game played on a flat top.
"It will be a different experience for him, playing on it,"
Lamont Halsey,
the stepfather of the former Elizabeth (N.J.) St. Patrick star, told SNY.tv by phone. Hopefully the ship won't wobble too much while the game is being played though, right? "Hopefully is right," Halsey said. "That's something different, though." Halsey said no one in his family was killed or injured on 9/11, but nearly 3,000 Americans died that day in a plan hatched by bin Laden. The aircraft carrier game, therefore, should have added significance for Strickland, a rising junior guard who played his high school ball for former St. Patrick coach
Kevin Boyle
not far from New York City. Until now, the best organizers could say was that the game would be played on either the Carl Vinson or the
Ronald Reagan
. After meeting with Navy officials in Washington, D.C., this week,
Mike Whalen
of the Morale Entertainment Foundation said there's a 99 percent chance the game will be on the Carl Vinson. "It's strictly by schedule," Whalen said. "I know people don't think that. It's true. You can't make this stuff up. It's just the way it worked out." The Carl Vinson was in the North Arabian Sea on May 2 when it received a Navy SEAL team carrying the body of bin Laden, the al-Qaida leader who was killed in a raid on his compound in Pakistan. The body was placed in a weighted bag, an officer made religious remarks and it was dropped into the sea. A court and stadium seating for about 7,000 fans will be set up on the flight deck. In case of rain, the game will be moved below to the hangar deck, with bleacher seating for the fans. "The look on our players' faces when I told them they would be playing outdoors on the deck of an aircraft carrier was priceless," Carolina coach
Roy Williams
said last month. "The experience will create for them a lifetime of memories. Even more important is the chance to combine the start of the college basketball season with saluting and thanking our military personnel for all they do to allow us to safely live and play each day in the United States of America." Along with Strickland, North Carolina returns
Harrison Barnes, John Henson
and
Tyler Zeller
and is ranked as the preseason No. 1 team by many outlets. "He's looking forward to playing," Halsey said of Strickland. "He's looking forward to this whole upcoming season, living up to the expectations, trying to win it all when everybody comes back." (The AP contributed)