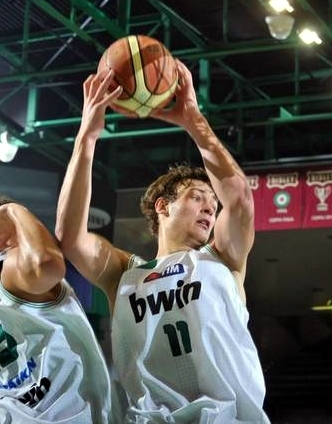 The Knicks have had mixed success with European draft picks. In 2008, the 'Bockers drafted
Danilo Gallinari
with the No. 6 pick and Gallo turned into a solid contributor to their ascent over the past several years before being dealt as part of the
Carmelo Anthony
deal.
But before Gallo, there were European flameouts
Maciej Lampe, Slavko Vranes
(both 2003 second-rounders) and
Milos Vujanic
(2002 second-round), to say nothing of the
Frederic Weis
disaster in 1999. Yet the Knicks could dip back into the overseas pool during this year's NBA Draft on June 23 when four of the Top 10 picks, and five of the Top 17, are projected to be foreigners by DraftExpress.com. Lithuanian center
Jonas Valanciunas
is projected to go No. 4 to the Cleveland Cavaliers, Turkish center
Enes Kanter
No. 6 to the Washington Wizards, Czech small forward
Jan Vesely
No. 8 to the Detroit Pistons and center
Bismack Biyombo
of the Congo No. 10 to the Milwaukee Bucks. Kanter's agents believe he'll go in the top two or three picks. The Knicks, meanwhile, are currently projected to take 7-foot Lithuanian power forward/center
Donatas Motiejunas
at No. 17. Motiejunas averaged 12.8 points and 4.4 rebounds last season for Benetton Treviso in the Italian Lega A. According to DraftExpress, his best-case scenario is
Pau Gasol
and his worst case is
Yi Jianlian.
"Motiejunas is a mobile and skilled young post player whose offense is ahead of his defense at this point," ESPN analyst
Fran Fraschilla
said by text. "He has a lot of playing experience for a 20-year-old." Given the tremendous success
Dirk Nowitzki
of Germany is having in this year's NBA playoffs, more and more teams are on the lookout for the next potential Nowitzki. Is he in this draft? "Nobody's going to be Nowitzki," Fraschilla said. "You're talking about one of the top 25 players of all time, I think. "A couple of these international guys can really be hit or miss. Biyombo can be a total miss like [
Saer] Sene
[the No. 10 pick in 2006] or he can be
Serge Ibaka.
He's somewhere in between." He added: "The mystery guy in this whole thing is Biyombo, who really only has limited experience at the highest level, going back to January, and one very good performance in the Hoop Summit this year. He's offensively challenged, but athletically is a freak." Outgoing Knicks president
Donnie Walsh
will be involved in the draft process before giving way to
Glen Grunwald
on an interim basis July 1. "Everything's status quo," Grunwald told the New York Post. "Donnie is still running the draft. And then after that I may get the opportunity." Given that the Knicks have no second-round pick this year and desperately need quality pieces to put around Anthony,
Amar'e Stoudemire
and
Chauncey Billups,
they can't afford to make a bad pick at No. 17. Last year they had no first-round pick and chose
Andy Rautins
and
Landry Fields
in the second round. Rautins never entered the rotation and Fields had a strong two-thirds of the season before disappearing after the Anthony trade. "They're in a situation in this draft where you've got to take the guy that you think is going to be the best NBA prospect, regardless of position," Fraschilla said. "If you worry about position and you reach for a guy that's not as good as someone that's available at 17, I think you hurt your team. "The Knicks obviously need help in a number of areas and it would behoove them to figure out who they think the best possible player is at 17, whether it's a point guard or a power forward."
RELATED CONTENT
**
Agent expects Kanter to go in top three picks
(Photo courtesy DraftExpress.com)