HOUSTON
— On the night of March 19, Big East Commissioner
John Marinatto
sat behind the Pittsburgh bench at the Verizon Center looking sick as a dog. Marinatto was, in fact, battling a severe cold that made his him look as white as paper.
But he was also disturbed to see the Panthers, the Big East's lone No. 1 seed and a pre-tournament favorite to reach the Final Four,
upended by Butler, 71-70
, on
Matt Howard's
foul shot with .8 seconds remaining. The Big East placed a record 11 teams in the Big Dance, only to watch nine of them — including traditional powers Pitt, Syracuse, Villanova and Louisville — eliminated before the Sweet 16. When just Marquette and UConn advanced to the Sweet 16,  writers, pundits and talking heads across the nation heaped abuse on the conference, calling it "The Big Least." "There might have been some people who were skeptical about the success that we had, or even the lack of success that we had in the tournament, but it's a tournament and anything can happen," Marinatto said here late Saturday night. "It's a one-and-out scenario." Now, two weeks after Howard's foul shot helped eliminate Pitt, UConn will play for the national championship against that same Butler team Monday night at Reliant Stadium. Butler entered the tournament as a No. 8 seed but will now play for the NCAA title for the second straight season after Howard and
Shelvin Mack
combined for 41 points in Saturday's 70-62 ouster of VCU. The last No. 8 seed to reach the final? Villanova in 1985 when it stunned
Patrick Ewing
and Georgetown. UConn is seeking its third NCAA championship and first since 2004.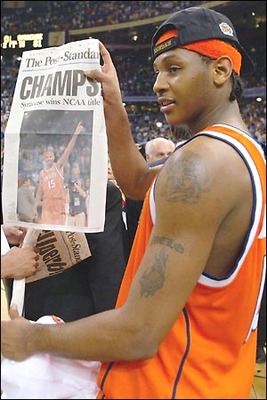 The Big East has not won a title since that year, which came a year after current Knicks forward
Carmelo Anthony
led Syracuse to the title in 2003. "We had a great year and we're just proud of the fact that we sent 11 teams into this tournament," Marinatto said. "The fact that we have a school that's now playing for the championship, it just solidifies what we knew all along." Marinatto is in his second year as Commissioner, following the tenures of
Mike Tranghese
and
Dave Gavitt,
both of whom were in office to see multiple Big East teams win crowns. Under Gavitt, Georgetown won in 1984 and Villanova in '85. Tranghese saw UConn cut down the nets in 1999 and '04 and Syracuse in '03. "It's very special, obviously," Marinatto said. "We had a championship in women's soccer this year (Notre Dame), we had a championship in women's cross country (Villanova)." The UConn women have won back-to-back titles and will play Notre Dame Sunday night in the national semifinals. But men's basketball is the conference's crown jewel, and now Marinatto has a chance to watch UConn win one for The Big Least. "Now we have Connecticut, and Connecticut and Notre Dame both in the Final Four on the women's side," he said. "So it's been a fun year from that perspective." And it could become even more fun on Monday night.
RELATED CONTENT
**
After clutch foul shots, Napier shares moment with mom
**
Butler returns to final after Nored lies to Mack
**
Zach Lamb faces uncertain future
**
Calhoun fueled by last year's slights, unlikely to retire