**Click here to see the full six-minute SNY interview with Lance Stephenson where he talks about the recruiting process and his goal of winning an unprecedented fourth straight PSAL title.

NEW YORK
— In an exclusive video interview that appeared on
SNY's Geico SportsNite
and on
ZAGSBLOG, Lance Stephenson
talked about the difficult recruiting process, his goal of winning an unprecedented fourth straight PSAL city title and his plans for the future. The 6-foot-5, 200-pound Stephenson, the No. 1 recruit in the Class of 2009 according to Hoop Scoop and No. 9 on Rivals, said he's now considering Kansas, Maryland, St. John's and Wake Forest and hopes to announce on March 21 after the PSAL championship at Madison Square Garden, assuming Lincoln makes it that far. He said it was difficult balancing the recruiting process with his goal of trying to win an unprecedented fourth straight PSAL crown. "It's kind of hard," Stephenson said at Lincoln High School before he attended the Syracuse-St. John's game at the Garden, won by the Orange 87-58. "A lot of coaches [are] calling me and asking me what I'm going to do next and when I'm going to come to their school. But I'm really focused on the city right now. It's distracting me, I'm just trying to stay focused. But I really have to look forward and pick a college. That's why they keep calling me. I gotta pick a college. It's just been hard right now." As he spoke, a Georgia Tech assistant attended Tuesday's Lincoln practice.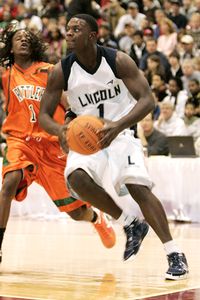 Lincoln coach
Dwayne "Tiny" Morton
commended Stephenson's parents, Lance Sr. and Bernadette, with teaching him how to handle the difficult recruiting process. "He's been contacted for four years and this is his dream," Morton said. "I make sure it's not a problem for me and it's not a problem for him. His family's done a good job holding his head up tight and doing what he [has] to do, finishing up hard in the classroom." Stephenson and his family just returned from an official visit to Kansas this past weekend where
Sherron Collins
was Stephenson's official host and he also had dinner with the staff. Stephenson and his parents sat behind the KU bench for the victory over Nebraska and were greeted with cheers of "Rock Chalk Stephenson." Several fans also asked for his autograph. "The visit was fun," Stephenson said. "I didn't know it was going to be like that. The crowd was good to me and my family and I felt comfortable there and I'm just looking forward to see where I can fit into that program."
Kansas has several players with ties to New Jersey and Philadelphia, including freshmen twins
Marcus and Markieff Morris.
"I played against the two twins at is8 and I think about me coming there and playing with them, the team will be much better than they are now," Stephenson said. Stephenson said he thinks Kansas coach
Bill Self,
who has followed him throughout the year, can elevate his game. "I got to talk to him a lot," he said. "He sounds like a good coach and he can help me. I just want somebody who can push me and make me a better player." Prior to the Kansas visit, Stephenson visited Maryland. His teammate, 6-8 forward
James Padgett
, has already signed to play for the Terps. "Me and James are cool," Stephenson said. "He said he wants me to come with him to college and we can play together like we played in high school. And I'm looking forward to that, too. It's just a hard decision for me thinking about college and trying to win a city. So I'm just trying to stay focused on winning the city first and then look forward to college." Maryland coach
Gary Williams
came to Brooklyn recently and saw Stephenson drop a career-high 50 points on FDR in a playoff game. Williams has taken some heat in
The Washington Post
for his recruiting failures, but Stephenson said he likes how the Terps play. "He's a good coach," Stephenson said. "I like the way he plays up and down. I play like that a lot. I think I can fit into all the programs. Maryland is up and down. I really like playing like that." There has been speculation that Stephenson might consider Maryland because Maryland has a deal with Under Armour, which has also given gear to Lincoln. But Stephenson plays in Nikes and said the sneaker affiliation of the school had no bearing on his choice. "Ah, no," he said. "I'm just going in there and see what's best for me and my family and how do I fit in the program. That's it." Stephenson said USC and UCLA — schools he once mentioned — were no longer in the mix. "I haven't talked to them in a long time," he said. He said he plans to visit both Wake Forest and St. John's officially in the coming weeks. He has been to St. John's unofficially several times. "That's going to be my next visit, Wake Forest, but I don't know when it is," he said. "It can't be after the season. Probably during one of the weekends coming up." Asked what he liked about Wake Forest, he said, "I like the two big men that's there. All I need is two big men and I could do anything at that school." As for St. John's, Stephenson has repeatedly talked about potentially staying home and playing at the Garden. "Oh yeah, especially at the Garden," he said. "I love playing on the Garden floor, the bright lights and the fans so I think if I go to St. John's I'll be able to bring New York back and build their legacy up again." Asked if he was more likely to stay home or leave, he said he wasn't sure yet. "I can't call it," Stephenson said. "I think I can go to any school. I can't say I'll go here or there. I think I can go to any school and fit in, so wherever I feel comfortable and how the coach treats me and talks to me and we get to bond with each other, that's where I'm going to go." Lincoln begins defense of its crown next Tuesday. Stephenson said he might announce March 21 if the Railsplitters get to the PSAL championship. "Yeah, probably," he said. "After that game, I'll probably go in the back and sit down and have the hats there and pick up the hat and that's the school I'm going to." Morton said both he and Stephenson wants to win their fourth straight PSAL title to make history. "I think it's important for any player to win the last game of their high school career," he said. "The fact that Lance and
Darwin ["Buddha" Ellis
] and myself are going for four is unbelievable." Whatever school he chooses, Stephenson wants to get there early to train. "I don't think I'm in shape for college," he said. "I think I'm going to go there in the summer and try to get in shape and try to fit in with the program." After the announcement, Stephenson said he wants to win the MVP in the McDonald's All-American Game April 1 in Miami. He was chosen for that but not the Jordan Brand Classic at the Garden. "I think the McDonald's game is more important anyway," he said. "They started it first. That's bigger than the Jordan Classic game, so I'm just happy that I made that team and I'm looking forward to that and I'm trying to think what I'm trying to do to get MVP or to win that game."
Eventually, Stephenson wants to join former Lincoln stars
Stephon Marbury
, who was released by the Knicks on Tuesday, and
Sebastian Telfair
in the NBA. "Of course," he said. "That's what I'm playing hard for. That's one of my goals. If I make it to the NBA, that's going to change my whole life around." Asked who he compares himself to, Stephenson said: "I compare my game to
Dwyane Wade
(pictured). He's tough, strong. He don't let nobody get in his head. And he's unstoppable, so I'm the same way."