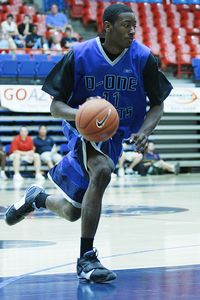 John Wall
is in Portland, Ore. for the
Nike Global Challenge
and there is no news on his college announcement. "No (news),"
Brian Clifton
, Wall's advisor, said in a text message. "(We) arrived in Portland focused on having another great showing and getting back home to rest and work some more."
Baylor, Oklahoma State, Kansas, Kentucky, Memphis, Oregon, North Carolina State, Southern California and Texas have been on Wall's list, but many observers assume he will end up at Baylor now that his summer ball coach,
Dwon Clifton
, has taken a job as the Director of Player Development under Baylor head coach
Scott Drew
. "The list is the same as it has been," Brian said. Brian added recently that the 6-foot-4 Wall, the No. 1 player in the Class of 2009, could announce at any time.